Android Device Manager
If you lose your Android device associated with your Google Account, you can use Android Device Manager to remotely locate and factory reset your phone or tablet.
Important: If you believe your device has been stolen, contact law enforcement. Don't attempt to retrieve the device yourself.
Turn on Android Device Manager
Note: If you're using a tablet with multiple users, only the tablet owner can manage the settings for Android Device Manager.
Open Google Settings from your device's apps menu.
Touch Android Device Manager.
You can turn on the following options:
Remotely locate this device. Remotely locate a device and find its approximate location on Google Maps. For devices running 4.1 and higher, location access must also be enabled. To turn it on, go to Google Settings > Location > Access location.

Allow remote lock and factory reset. Remotely lock or erase all data on your device. You can also change the lock screen passcode. Touch this option, then select Activate to turn on the device administrator.
Use Android Device Manager
Sign in to your Google Account on

android.com/devicemanager

. If you're using a Google Apps account, you will sign in to your

My Devices

page.

All devices associated with your Google Account receive a notification to enable it if it's turned off.

If you have more than one device, select the arrow next to the device name to change it. To rename the device, use the

Edit icon.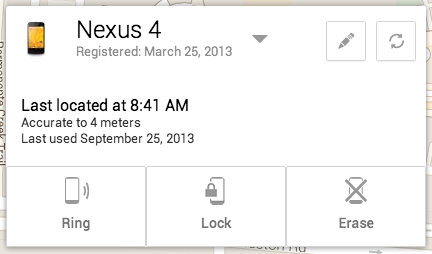 When your device is located, its approximate location is indicated by a blue circle on the map. The device manager also displays the name of the place where the device is located, the time it was located, and when it was last used.
Important: Android Device Manager doesn't collect a location history or do background location reporting. Your device's approximate location is requested when you first sign in, and this location data is deleted when you sign out of the device manager. If the device is turned off or offline, Google is unable to report its location.
You can select the following options:
Ring. Ring your device at full volume for 5 minutes - even if it's set to silent or vibrate.

Lock. Lock your device with a new password.

Erase. Perform a factory reset, which permanently deletes all of your data.
If your Android device doesn't appear in Android Device Manager, or if you see Unknown location despite your device being online and running Google Play services version 3.2.25 or higher, follow these steps:
Open

Google Settings

from your device's apps menu.

Touch Android Device Manager.

Uncheck Allow remote factory reset.

Go to your device's main Settings menu, then touch Apps > All > Google Play services.

Touch Clear Data. Note that this action doesn't remove personal data.

Go back to Google Settings and select Allow remote factory reset.

Restart your device.
Devices that are offline or powered off
If your device is offline, Android Device Manager won't be able to ring, lock, or erase the device until there's a mobile data or Wi-Fi connection. Select any of the options in advance, and the action will be performed once the device is back online.
Android Device Manager won't work for devices that are powered off.
Devices hidden on Google Play
If you hide a device on Google Play, the device won't appear in Android Device Manager. You can hide or show devices on Google Play by going to
play.google.com/settings
and selecting a device in the
Visibility
column.